by Simone Johnson
This month, the IIYC attended the UNITY Conference in San Diego, California. At UNITY, we taught our training, Mi Vida Su Vida (My Life Your Life), and it gave me time to reflect on why this training is so important. Mi Vida Su Vida is one of IIYC's programs that focuses on total health and wellness of body, mind and spirit. This training was developed in collaboration with Promotoras from IIYC's mentor organization, Sisters of Color United for Education (SOCUE). Mi Vida Su Vida provides culturally responsive prevention, intervention and treatment methods around health education for young people. The IIYC believes that as youth, if we are to lead in our communities we have to develop our community organizing skills from a strong and stable foundation. This begins with education and re-education around mental, physical and spiritual health.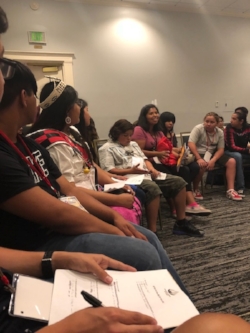 Our health education system is f'ed up!
The IIYC takes on a realistic approach to health education. As youth who have grown up in the American education system, some of us were exposed to extremely impractical ideals in our sex ed courses when learning about things like drug use, abuse and dependency, as well as STD/STI prevention and abstinence from having sex. Some of us didn't even get the opportunity to participate in sex ed classes because our schools didn't provide them. Teachers would use scare tactics to try and prevent us from having sex or experimenting with drugs. Abstinence of anything seemingly dangerous was always the go-to "best practice." This method for educating young people about their bodies, paints a very limiting and stigmatizing idea of what it means to actually be healthy.
So what do we mean when we say, culturally responsive?
Mi Vida Su Vida seeks to challenge traditional forms of health education. We take on an integrated approach when discuss health. While we share western ideologies around health education (STD prevention, learning how drugs affect your body, understanding the anatomy of male and female sexual organs), we also integrate many Indigenous forms of education into our training. So when we talk about the anatomy of the body, we don't just go through the scientific aspects of what it means to exist physically. We also talk about how there are people who identify as two-spirit, and what that can mean for someone living in a body with certain male or female anatomy. When we talk about depression and anxiety, we discuss how intergenerational trauma is passed down to us from our ancestors, and in this way we can experience pain and suffering that may not have happened to us directly, but that we still feel through generations of violence.
Total health takes time. The process for getting there is challenging, and we hope to be there for youth every step of the way.
At UNITY, we had an hour to share this work. In this amount of time, it's impossible to touch on every aspect of our training (sex education, drug use/abuse/dependency, our relationship to food, dynamic systems theory, the importance of water… to name a few). At the conference, we focused on Conocimiento (getting to know yourself). Conocimiento gave the youth a chance to tell us who they are, where they come from and what self love means to them. To a lot of people, this may seem so simple... and actually it is. I think one thing our health education system has failed us in, is the fact that being healthy stems so much from feeling like you can hold space in the world to express yourself unapologetically; that you can live in a single moment and be ok with being right where you are, regardless of whether that space is positive or negative, or both.
Self love and identity have been stripped away from everything we teach a young person when we talk to them about being healthy. Instead of providing youth a learning ground to explore, create and play, society often teaches our youth how to be silent, judge and compare. When youth have questions about things they've discovered that they may be having a hard time dealing with, we leave them to ponder those questions for themselves rather than having an honest, open conversation about how they're feeling. Those negative thoughts can (and often) manifest themselves into harmful patterns of behavior and sickness, whether mental, physical or both. We carry this trauma with us as we go through life, and that is not ok.
IIYC is a catalyst.
We are changing the way we expect society to teach young people about what it means to be happy. For us, that change starts with Conocimiento; taking time to establish honest, true, human connection. From there, we've laid the foundation to have a whole host of conversations around totally and complete health and wellness. By connecting back to our past and living fully in our present, our ancestors and communities help shape who we will become. We are products of our environment and how we deal with all that life throws at us directly relates back to how our communities help support and build us up. The IIYC is committed to providing a safe space for youth to express. This begins with Mi Vida Su Vida. We invite you to learn something new about yourself... and to teach us something new about ourselves along the way.